ADVANCE YOUR CAREER WITH A NEW LICENSE
There's 1 common thread to our students: these men transformed their idea to apply for their electrical license into actually getting their license with our help.
Join us for an interactive two-day workshop to prepare for the Journeyman Electrical exam and the Master Electrical exam. Our training team will guide you through the process of studying, attacking and passing the exam with confidence from start to finish. This is an opportunity for you to interact with our team face-to-face and learn the secrets to passing the master or journeyman electrical exam.
This 2-day seminar will guide you step-by-step on the formulas, calculations, code sections, index practice, and guides that are essential knowledge for passing the exam.  This seminar focuses only on the material presented for Texas electricians.  We don't make you memorize questions, we help you understand them and unlock the secret to your massive code-book. We also teach you how to prepare your code book so it becomes helpful during the exam instead of a burden.
Who should attend?
Electricians who need to pass the journeyman and master exam.
Electricians who have failed the journeyman and master exam.
Why should I attend?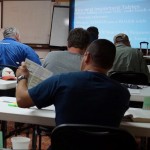 "Give a man a fish and he eats for a day. Teach a man to fish and he eats for a lifetime." This is the mantra of our workshops.
We're on a mission to provide all the assistance necessary to help you take your career to the next level. At this workshop, we'll help you get started so you can confidently take and pass the electrical exam.
Upcoming Seminars
January 19 & 20, 2019 - Houston, TX 
February 16 & 17, 2019  - Austin, TX
March 16 & 17, 2019 - Dallas, TX 

SIGN UP FORM:
Take the Next Step!
Houston Electrical Exam Prep January 19 & 20, 2019
Register today to prepare for a new future in the industry!
*Please note, we only have 1 seminar per month*
*To minimize unauthorized drop-ins, we keep the physical location private and will be issued upon reservation. Please allow up to 72 hours for your confirmation e-mail.  We appreciate your understanding.*
From our previous workshops....
"The day was very helpful and useful, and I would 100% recommend" - Gary F.
"Great work. Thoroughly enjoyable workshop. Looking forward to the exam." - Andrew M.
"Great course, information, location and great value for money" - Justin E.
By the end of the workshop, you'll know:
 How to answer calculation questions
To navigate through the NEC book fast for answers
How to practice taking exams so you can pass the real exam the 1st time
Electrical Theory, Plans, and charts
The NEC exam format and interpretations
All subject areas in the exam
Guaranteed!
All of our students PASS the exam!  If you don't pass, we stick with you until you do.
Know the Answers
We take the mystery out and give you simple ways to navigate through the exam.  This course is designed to focus specifically on the subject areas included in the state exam.  You will go home with 2 weeks' worth of homework to keep practicing what you learned.  If you have questions, reach out to us and we will help!
We cover all 10 subject areas and 22 categories that are in the actual exam.
Be Prepared:
Download and read the PSI Examinations Bulletin.  HERE
For more info Call 1-832-779-3926
Agenda & Subject Areas covered for the Texas electrical exam
General Electrical Theory and Math Review
Definitions, Calculations, Theory and Plans
Test taking tips and information
Wiring Methods, Materials, Installations
Branch Circuits
Motors and Generators
AC and Refrigeration Loads
Transformers
Grounding and Bonding
Electrical Services
Special Occupancies
Service Equipment and Conditions
Separately Derived Systems
Electrical Feeders
Branch Calculations and Conductors
Electrical Equipment and Devices
Electrical Control Devices and Disconnecting Means