Electricians preparing for the electrical exam have a lot on their minds.  To simplify a portion of your exam taking anxieties we have listed 3 tips for highlighting your electrical code book.  We have written longer blogs on highlighting your electrical code book for the electrical exam, but here are the top 3 tips.
Add page numbers and highlight keywords in the index of the electrical code book. If you take a look now, you will see that the page numbers are not included!
Highlight the article and sections that belong to the tables you highlight. Remember each table has a corresponding article that explains how to use the table and includes other notes and sometimes exceptions.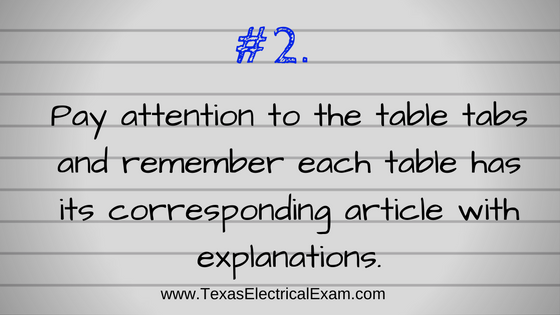 Use several different highlight colors to differentiate from sections, articles, exceptions, and keywords.
If you have any questions, please feel free to send us an e-mail and we'll get back to you.  As always, if you have any exam prep tips you feel could be used on this website, send us and e-mail so we can share your tips with other electricians.  
Thank you for reading.
Tony
contact@texaselectricalexcel.com
Don't forget to sign up for our bi-weekly email newsletters for electrical exam tips, seminar dates, industry updates and exam alerts. *We hate spam and will not share, sell or abuse of your e-mail address*